We met with the owners of Adelphia Restaurant, Banquet Facilities and Nightclub in Deptford NJ in fall 2004.
They had a serious problem that had occurred. They had a wedding reception planned for the next day. Their large double cluster royal palm tree had shriveled up and died.
They had been using this live palm as a wedding tree showpiece. Only the finest Top Quality Food was served underneath, and around this spectacular tree. Imagine the situation; a 1,000 lb pot sitting there with a dead palm tree on display, and a wedding party of up to 450 arriving the following day.
Oasis Illusions understood the urgency of this problem and the next day we were able to supply Adelphias with a temporary Replica Palm Tree for that important occasion.
This was not the first time a set of live Royal palms had died in that location. These trees had been replaced three other times. Although some palm trees can be naturally fussy, these palms had died due to their environment. They received no direct sunlight, air conditioning and heating vents were positioned above the trees, and the patrons at the night club would occasionally pour alcohol into the pot, which would eventually poison the trees.
In the meantime, the owners asked Oasis Illusions to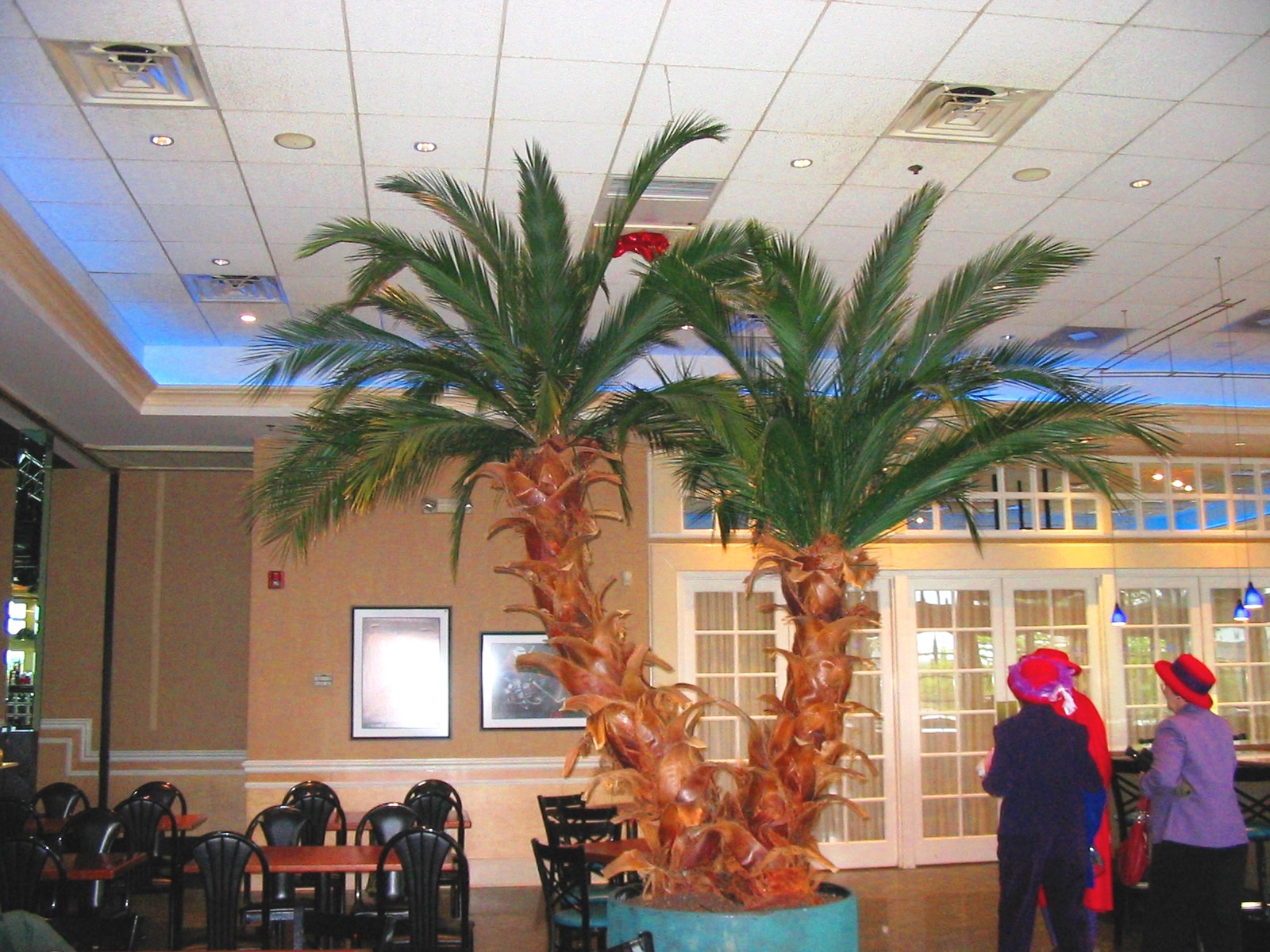 start custom building some more permanent replacement palm trees.
The owners were inspired by the interior of the Mirage in Las Vegas, which has 100's of palm trees inside their large atrium. After looking at the picture of the Mirage we custom built ones like that. Our Palm trees were built according to their specifications for this area. We used real palm bark and real palm leaves that were preserved (embalmed).
One of the challenges of this space was that it was also used as a night club on certain nights of the week. Adelphia Nightclub showcases the area's top bands, DJ's spinning the tunes, live radio station broadcasts, and dance parties all in this particular area.
Based on past experiences in supplying palms to other club/ lounges we understood that it might not be unusual for some the patrons to get curious and have a tendency to pull at the palm leaves after drinking.
Therefore we had to customize the tree to fit into this space. The leaves also had to be put on higher angles to have the canopy create a "V "shape so the tips of the leaves were out of reach.
Since we supplied this palm tree it has received many compliments. These palm trees have been used in that space for over 5 years. This past summer one of Adelphia's owners decided to purchase some outdoor palm trees for his pool area.