For typical tree installations, a concrete footing first needs to be poured, with a sleeve pipe inserted into the center (which we supply), flush with ground level. Our trees have root-segment pipes sticking out the bottoms, so the tree telescopes down into the concreted sleeve, standing upright. Then you'll need to carry the head (which also has a root-segment pipe sticking out) up a ladder and drop it into the top of the trunk (which has a hollow pipe running through it). 
To see installation in action, check out the videos below for a visual walkthrough of the process:
"How to Install an Oasis Illusions Canary Leaf Palm Tree"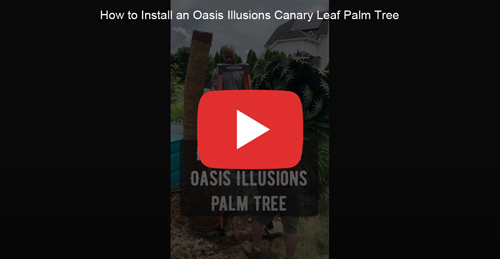 "How to Install an Oasis Illusions Phoenix Leaf Palm Tree"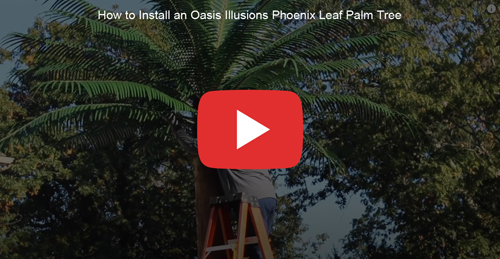 Even the larger palms are fairly light weight and easy to install. Typically these palms come in a two part assembly: the canopy head and the palm trunk.

Oasis Illusions replica palms are designed to withstand snow, ice and temperature below freezing.  The branches are made of weatherproof poly resins and designed to move and sway with the wind.  The branches return back to their original position without becoming deformed.

Our palm trees are manufactured with durability in mind, ensuring that they can withstand harsh conditions, such as heavy rain, strong winds, and snow.

It is not necessary that you dissemble and store the palm trees away during the Winter, but this is a personal decision — many of our customers leave their trees up all year long, while others do take theirs down and put them away during the Winter season.

Lead time mostly depends on stock availability — please call for status on stock availability. Otherwise if the product is not currently in stock then it will be made-to-order, in which case the lead time will depend on a few factors, such as quantity of products ordered, as well as time of year; Spring-Summer are the busiest seasons, during which lead times can be upwards of 3-4 weeks — in some cases it can be longer, again depending on number of products ordered, as well as whether or not there is customization involved.

The general rule-of-thumb is that shipping is around 13% (thirteen percent) within the continental US. Regarding shipping rates for Canada, Mexico, or Internationally, please contact us.

For larger palm trees, we build a custom-sized wooden box, which is then shipped via UPS, YRC Freight, Roadrunner, etc. Smaller palm trees or other products are shipped in sturdy double-wall cardboard boxes. Some orders that are placed locally — especially smaller products — can be picked up by the customer, if they have the means of easily transporting the product. Please contact us with any questions about shipping options.

Our facility is located in Sewell, New Jersey; we proudly manufacture our products in the USA.

Absolutely, our Phoenix Date Palm and Canary Date Palm trunks can be curved in a variety of ways. However, our Coconut Palm trunks are restricted to one standard curve. Contact us for more information on curvatures.

Our trees are also immune to several problems affecting real palm trees. Our trees are:
Tolerant of Freezing
No Trimming Necessary
Insect Free
Disease FreeNo Bud Rot
No Overgrowth
No Sunlight Necessary
No Expensive Climate Controlled Freight Costs
Inexpensive Installation
Savings on Replacement

Oasis Illusions palms are designed to be as low maintenance as possible.
For our coconut palm tree trunks, no upkeep is necessary. These trunks are made to not only look as real as possible but last a long time, with little-to-no effort in maintenance.

Yes, Oasis Illusions is the custom builder of the highest quality and most durable indoor preserved and outdoor artificial palm trees. These palm trees are custom built according to your design specifications. This can include various leaf styles, heights, diameters or trunk curvatures. We proudly manufacture Oasis Illusions products in the USA.

Some of our Palm Tree trunks are created from real palm bark or natural materials. Piece by piece these materials have to be mounted or strapped onto a steel core in a pattern that simulates nature. The palm wood is harvested from clean US palm farms and we ensure that it gets properly preserved for outdoor use. Other products, such as our Coconut Palm Tree trunks are molded from from a casting of a real live palm tree trunk. Every tree has a rust resistant steel core. This means that our trees are built to last.

Yes, we frequently sell palm trees to Canada. Please contact us for a shipping quote.  We also have experience shipping and installing palm trees internationally as well.

We can build outdoor palm trees as tall as 25' tall and have built indoor palms as tall as 42' tall.

A Tapered trunk means there is a larger diameter at base, and narrowing towards the top of trunk. Most of our trees offer a straight or slightly curved tapered trunk.

This is the most popular and natural looking for straight palms.

Excellent for true tropical look and for multi-trunk clustered palm trees. It looks nice to vary the heights of these palm trees as well.
Note: Due to the direction of the curved trunk one side of the canopy will look fuller. A curved tree can also be used to fit into a corner space.

This is the same diameter at base as the top of trunk. Good for contemporary settings this trunk style includes the Robelenii palms and the Caribbean palms.

Our replica palms are highly customizable.  They can be fabricated, contoured, and tapered to meet individual site specifications and preferences.  For choosing a more custom trunk style or a radical trunk curve offset click here for more details: Choose Your Specific Custom Palm

Phoenix leaves are around 18" wide and the Canary leaves are slightly narrower. For this reason there are less leaves needed in a mature phoenix date palm tree (typically 40 -50) and more needed in a Mature Canary Date Palm tree (typically 60- 70 leaves).
The Leaves on a Phoenix tree look airy and they have good leaf definition, while the Canary Date Palm looks bushier and the canopy is more rounded and robust.

Washingtonian leaves are designed with a wide robust fan shape. While the Phoenix Date Palm leaves are longer and are shaped more like a feather. Both canopies will look full and desirable.

During the manufacturing process we purposely give the leaves texture so that they appear like real live palm fronds. This means they won't have an unnatural shine or gloss.
Natural palm fronds have ridges and creases which create shadow and depth in the sun. This creates the appearance of lighter and darker green tones. Our artificial palms also have these ridges which help to create color variation on the leaf.

With the support of Dr. Chin and Dr. Mandamyam from Rowan University Oasis Illusions was able to use a CT ( x ray ) scanner to magnify real live palm tree leaves to better understand the texture and definition of a real leaf specimen. This texture was analyzed and helped to give us artistic vision of how these leaves were to be designed. Now Oasis Illusions will be able to claim that some of their artificial palm leaves have been practically molded from real live palm leaves.

Our trees have been designed to make sure that the final product looks as realistic as possible. Our replica palm tree leaves are artistically created and most are poly-colored in order to make them look even more realistic.
Live palms have lighter color greens on bottom of the leaves and yellowish green petioles on both sides. They completely change the look of the surrounding area.

We have spent 5 years of testing these palms in the field and these palms have held up quite well in a variety of settings. After two years of Research and Development we have targeted the most durable material and colorations for our leaves.
The challenge was that leaves had to remain somewhat flexible to sway with the wind naturally, yet be rigid enough to have adequate strength down the center of the stem. Since literally 100's of material had to be looked at. The most important considerations were for the product to look both realistic and have high durability.
We used leaf colorations that have been known to replicate real live plant material. This color is also highly UV stable and durable for many years outdoors.

All Plastics will fade outdoors over many years due to Ultraviolet radiation UV A, B, and C light. Just as the Sunlight can damage a person's skin it can also damage the surface of plastic over time.
Many of the low quality artificial plants on the market will fade to an unnatural shade of blue within  just a year of being outdoors.
Fortunately, Oasis Illusions has a good track record for using superior palm leaves. These poly-resin leaves are highly resistant to weathering outdoors. We also add UV stabilizers into these leaves which primarily protect the leaves from the long-term degradation effects from sunlight.
You can think of UV stabilizers sort of like a suntan lotion for plastics.
Both Suntan lotions and UV stabilizers work by effectively absorbing UV radiation. The compounds absorb most of the UV radiation, thus decreasing possible skin and plastic damage over time.
Just like a good suntan lotion less UV penetration means: better protection for skin or plastic cells from the damaging effects of UV light.
We also use fade resistant colorants: that will help block much of this radiation. Therefore our leaves will most likely last far longer than many other artificial plants on the market.

Each palm tree size is based on overall height (ground to the top of fronds). They are also measured by Palm Tree canopy size.

Canopies are known as the width or the Diameter of the foliage / leaves.  The entire canopy is also known as the Receiver Head or Crown of the palm tree.  The Canopy Diameter of each the palms is listed online, this is based on average size in feet.  Actual size may vary because it is partially dependent on how you artistically decide to arrange the palm leaves when bending them downward.

Mature canopies are slightly larger to accommodate a taller or more robust tree size. The younger canopy is slightly smaller, but it is proportional for that tree size. Typically in nature when the tree size is larger, then, so is the canopy.
How do you bend down the leaves to make the palm canopy look full?  Some customers desire to bring the leaves down low and others decide to leave them up in a "V" shape. This is dependent on the artistic touch of the customer.
After ordering a palm we will send easy to read instructions that will make suggestions based on installing that particular palm.

Bob Wear Jr., President of Oasis Illusions, turned his passion for the tropics into a business. As a child Wear had always envisioned living in an exotic atmosphere far away from New Jersey's native landscapes. Wear was not completely aware that many other residents, like himself, appreciated the theme that tropical plants and trees could create. Palm Trees are symbolic of that atmosphere and climate.  Growing up Wear tried everything in his power to grow palm trees in his backyard. Wear tried to protect large palms purchased from an amusement park at the end of the summer season by covering them with bubble plastic. He also tried growing plants from seeds.
All of these efforts did not prevail. Most palm trees cannot survive in areas that have a frost line. When the first frost comes it will cause the palms to freeze to death. They are made up of 75% water. This water expands and causes them to freeze to death.
Instead of giving up on his dream of the tropics in his backyard Wear decided if he could not grow it, he would make it.
Since then some of our clients include Nascar of the Poconos, high end clubs and restaurants, resorts, and several CEOs of different companies, and many homeowners.
Also we have tested these replica palm trees in the harshest environments for many years. We have tested these palm trees in South Florida, California, Michigan, and New Jersey. We also have several installations worldwide in the Netherlands, Canada, and Hong Kong.
Oasis Illusions was started to create palm trees that are realistic. We wanted to build trees that are realistic enough that people can't tell the difference between ours and the real thing. We want to have them used in landscape designs or themes.
Wear said "I have tested most of my competitor's products, and they have all failed, quality-wise; in regards to structural strength, and standing up to all climatic conditions. This will separate us from our competition." "Oasis Illusions is the only high quality, durable, realistic artificial outdoor palm tree builder."
Oasis Illusions has been custom building palm trees since summer of 2003.

Box 168, Rt. 322 Richwood, NJ 08074

This email address is being protected from spambots. You need JavaScript enabled to view it.