Oasis Illusions creates exotic resort quality replica palm trees that can be used to promote a vacation atmosphere for both residential and commercial clients. We offer the touch of the tropics for your landscape.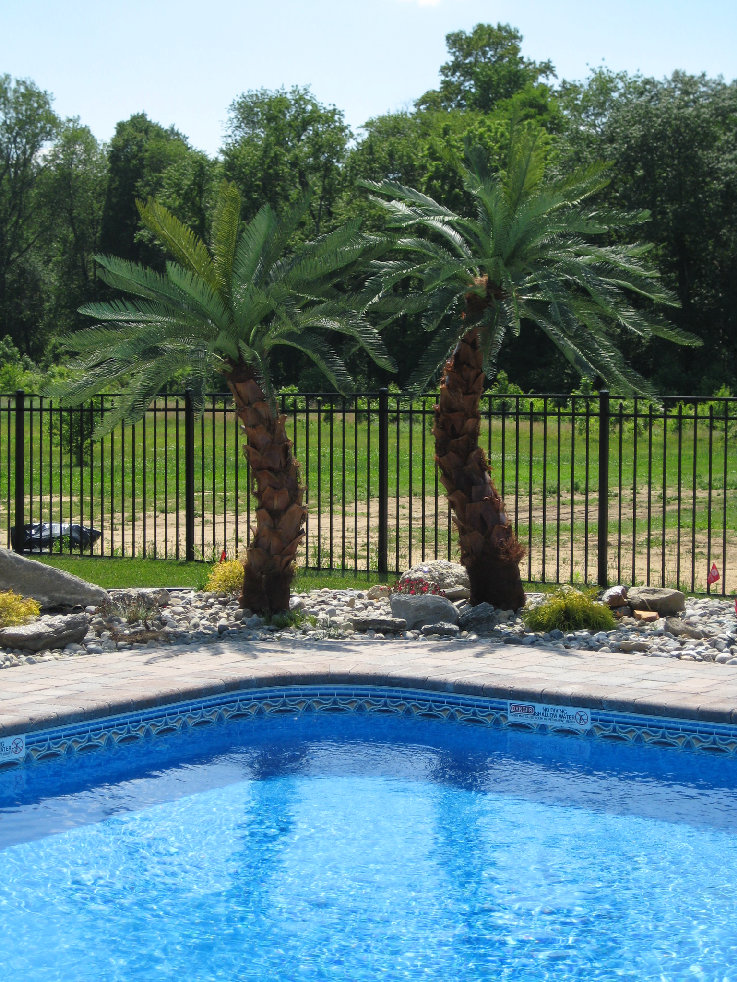 Imagine being able to enjoy the tropics year round in your backyard or at your commercial property. Bring the island atmosphere there. No need for an umbrella; instead, relax right underneath the swaying branches of your own palm trees. Can't grow live palm trees in freezing temperatures, or not an expert in growing fussy tropical plants? Not a problem Oasis Illusions can provide you with a permanent solution; we can offer you the comfort of knowing our palm trees won't die. They are perfect for indoor/outdoor use!
Read More
No one has to know this is actually a replica palm tree. It looks so real, because it is botanically correct.
At Oasis Illusions we custom build your palm trees, with absolute realism, texture, and color. Our replica palm tree leaves are artistically created and most are poly-colored in order to make them look even more realistic. This is because typically palms have lighter color greens on bottom of the leaves and yellowish green petioles on both sides.
In fact, many people come up and touch the texture of the tree trunk, and can't believe it is not alive. Our outdoor artificial palms trees are made from real palm bark, fiber, or natural tree components. The ultimate test was when the owner from the Sunset Bay Restaurant who had imported live palms for many years decided to purchase one of our trees. Later that spring, the restaurant owner set up a meeting with his supplier of live palm trees. This owner asked his supplier if he was able to tell the difference between his live specimen and our replica palm from only several feet away. Unbelievably, this seasoned palm tree grower from Florida said, that he was not even able to guess which one was the replica.
They were also designed to sound realistic too. We were able to create a leaf that rustles in the wind and blows in the breeze.
Palms are known to create a warm, calm, harmonious, and comfortable atmosphere, so they can actually fit into any décor. They also can make a luxurious statement, due to their ability to accent unique architectural features and add exotic beauty to the landscaping.
Oasis Illusions palms are designed to be as low maintenance as possible. They are very light weight and easy to install. The trees can be lowered into a concreted sleeve in the ground, cemented into a pot, or bolted onto a concrete slab.
Our artificial palms are highly customizable. They can be fabricated, contoured, and tapered to meet individual site specifications and preferences. These trees can also be strategically placed around your property to camouflage unsightly equipment or to provide privacy for bathers. They can be set near pools, hot tubs, entranceways, in gardens, in pots, or planted, just like a real palm tree.
Our trees can be included with a variety of plants and water falls, rocks, and lights to add a resort appeal to any location. We can add a tropical landscape which can fit into a variety of unused spaces.
Some of our clients include Nascar of the Poconos, high end clubs and restaurants, resorts, and several CEOs of different companies, and many homeowners.
Designed to Last
Our Palm Tree trunks are created from real palm bark or natural materials. Piece by piece these materials have to be mounted or strapped onto a steel core in a pattern that simulates nature. The palm wood gets properly preserved for outdoor use. Each tree has a rust resistant steel core. This means that our trees are built to last.
The Palm fronds are nearly indestructible by weather, pets, or the garden sheers! In fact, the fronds are so strong you could ride a Mac truck over them. Each leaf is built with a bendable, but yet, strong, steel or aluminum core.
The leaves are made of weatherproof poly resins and designed to move and sway with the wind. The branches will always return back to their original position and never become deformed.
All our outdoor artificial palm trees are tested and engineered for a variety of outdoor weather conditions. We have tested them in the sun with intense UV rays, rain, ice, snow, frost, humidity, freezing conditions, and high wind gusts. The leaves do not get brittle in freezing conditions, as many inferior outdoor artificial trees might.
Unlike a live palm they can withstand freezing conditions. Live palm trees contain 75% water, which would cause the live palm tree to freeze to death. In fact, ours are constructed to support heavy snow and ice loads.
We have tested these replica palm trees in the harshest environments for many years. They have been tested in South Florida, California, Michigan, and off the ocean beaches in New Jersey. We also have several installations worldwide in the Netherlands, Canada, and Hong Kong. They have withstood the physical and chemical weathering in these environments, as well.
In New Jersey, at Westy's Irish Pub right off the beach our Mature Phoenix Date Palms preformed excellent in a northeastern. This storm had heavy wind gusts, in fact part the Pub was damaged. However, our palms stood strong.
Furthermore, our trees are also immune to several problems affecting real palm trees. Our trees are:
Tolerant of Freezing
No Trimming Necessary
Insect Free
Disease Free
No Bud Rot
No Overgrowth
No Sunlight Necessary
No Expensive Climate Controlled Freight Costs
Inexpensive Installation
Savings on Replacement

We hope that you will enjoy the long term benefits of our Replica Palm trees, when considering the ongoing costs of live Palm Trees.